The Diskoboxes (sometimes called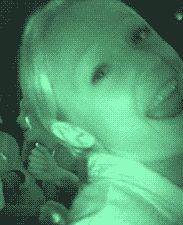 Discokonzentratoren) are small but well-functional discotheques temporally installed on variuos - for dancing unusual - locations. (storage room of a bar, container, elevator)
In 2001 3 Discoboxes were installed:
One at the Vienna Künstlerhaus-Passage during the Wiener Festwochen in the storage-room of the Passage. Salute to Christian Wenninger for checking out the location.
The second in a container in the old-town of Innsbruck. Salute to stefan bidner for realizing the discokonzentrat - without him it wouldn´t have been possible.
.... and the third in an elevator at the University of Applied Arts. Salute to mr. schindler for lending the elevator.
Discobox: Size: approx. (depending on the location) 200x200x250 cm
Sound: postitiv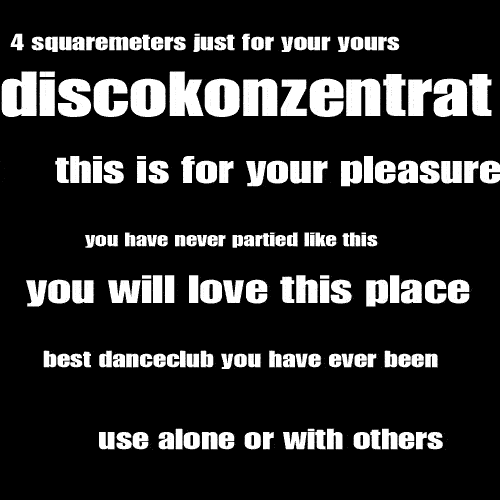 guestlist Diskobox/Wien/Kuenstlerhaus
VIDEO : DISCOKONZENTRAT INNSBRUCK (quicktime 3,0 MB)
"Eine Discobox ist etwas was jede/r brauchen kann. Eine Discobox nimmt uns die Suche nach mentaler und körperlicher Befriedigung ab. Der Mensch kann sich hier innerhalb kürzester Zeit in einen anderen Gemütszustand bewegen. Und tanzen und schreien was das Zeugs hält." Christoph Höschele 2001
andere Künstler über die Discobox:
"Ich will sofort so eine Discobox haben!" Rosa von Süss
"Weißt du eigentlich was du da gemacht hast? Etwas wunderschönes." Wofgang Gantner von Gelatine
"In deiner Discobox sind ja viel mehr Leute als bei mir auf der Tanzfläche." Florian Schmeiser, DJ der Künstlerhauspassage